Hmong Embroidered Bags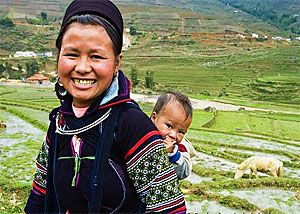 These bags are made by Hmong Hill Tribes who are an Asian ethnic group from the mountain regions of China, Vietnam, Laos and Thailand. Originally from southern China, the Hmong gradually migrated south during the 18th century due to political unrest and to find more workable land. Today, many Hmong are located in the remote thick forests and mountainous terrain of the northern Thai regions and are well integrated into Thai society.
Buying these bags helps to keep these hill tribe women in their own villages and prevents them having to move away from their families to find work.
All levels of production are environmentally friendly and promote safe working conditions and a good salary through various Fairtrade initiatives.